The encyclopedia of the Agent Ali series by WAU Animation which started airing in

TV3

since April 8th, 2016. The Wiki's main task is to progressively collect and archiving all Ejen Ali related materials into exclusive pages.

Currently, we are editing over 20,895 edits, 208 articles and 3,091 images in this wiki.

Make sure to visit our pages and deepen your knowledge on the adventure story of Ejen Ali!
WARNING! This wiki contains spoilers. Read at your own risk!
Featured Quote (January 2022)

"

Do you not have other attack? All you know I'm the one who teached you!

"
— Uno in MISSION: OVERRIDE
Featured Image (January 2022)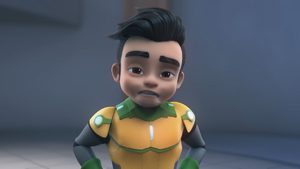 "Only that."
Latest Episode
MISSION: LEGACY (Malay: MISI: LEGASI) is the twenty-sixth episode of Agent Ali. It is also the thirteenth and final episode of Season 2.
The M.A.T.A. agents must prevent Uno from accessing the M.A.T.A. Mainframe.
The 13th episode of season 2 was aired on March 30th, 2018.
User Blogs

Zianka
•

Hi, guys I made it for just to laughing y'all!
If you see my edit is not perfect, please don't tell me about that. ;)
Click here to see more blog posts.
Latest News
• MISSION: LEGACY was finally aired on TV3 since March 30th, 2018.