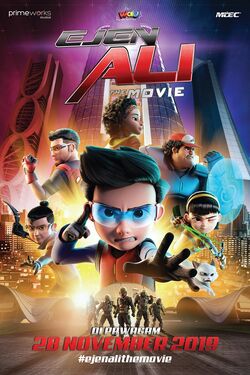 Ejen Ali The Movie is a Malaysian computer-animated spy-fi action film. It is the first movie by WAU Animation, based on its TV animation series, Agent Ali.
The movie got released in Malaysian cinemas on 28 November 2019. It also got released in Brunei and Singapore.
Synopsis
After being accidentally recruited as a spy, 12-year-old Ejen Ali embraces his role in secret agency MATA as Cyberaya's new line of defense. Unknown to Ali, MATA has developed his invention the Atlas gadget to upgrade IRIS into IRIS Neo, testing it as standard equipment for all MATA agents. When the new invention leads to Ali questioning his place and usefulness to MATA, he is approached by a rogue figure who claims to know about a surprising personal connection to Ali. Risking his loyalty to MATA, Ejen Ali embarks on a thrilling chase to unravel these mysterious links.
Cast
Production
The film costs RM6 million including promotion cost. The filmmaking team consists of a total of 80 local animation designers and graphic artists. The production of this film uses high-quality digital technology.
Music
The official theme song for this movie is produced by Altimet. "Bukalah Matamu" is the first released single from the official soundtrack album of Ejen Ali: The Movie, released on YouTube and all streaming platforms on 20 September 2019. "Kita Jaga Kita" is the second released single from the official soundtrack album.
Soundtrack
Release
WAU Animation announced this film project when they released their first teaser trailer for this movie on 7 August 2018. The second teaser trailer is released on 29 March 2019. The first official trailer was premiered on 1 August 2019.
It is scheduled to be released in 120 local cinemas. There is also a possibility of it being screened in 50 countries but Ahmad Izham Omar, CEO of Primeworks Studios said that it is still in discussion.
Reception
WAU Animation targetted RM20 million for the local market for this movie.
Community content is available under
CC-BY-SA
unless otherwise noted.