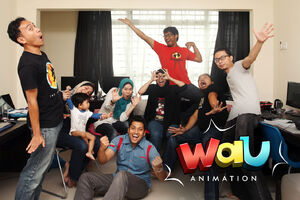 WAU Animation is a CG animation studio formed on the 18th of March 2013 by a group of creative talents possessing up to 7 years of experience in producing multiple award-winning CG animated series and feature films.
The selection of employees consist of former Les' Copaque Production (Upin & Ipin, Pada Zaman Dahulu, Geng: Penggembaraan Bermula) and Animonsta Studios (BoBoiBoy) production studio employees. Recently, in the year 2016, WAU Animation also had a helping hand in the development of the film "BoBoiBoy The Movie" which went live on cinemas in Malaysia on 3rd March 2016, and in Indonesia on 11th April 2016. The film was mainly made by Monsta (a subsidiary of Animonsta Studios which was founded 4 years earlier than WAU). So, to conclude, it may be possible that both Monsta and Wau work together in future Agent Ali related matters, but at the moment WAU Animation is going to do its own thing.
Currently, there are animators, modellers, voice actors and so forth taking positions. Teamwork is the motto behind WAU. They are planning to broadcast "Agent Ali" to the non-Malaysian audience sometime in the future.
The most notable employees are as follows:
Chief Agent Usamah Zaid
Fuad Md. Din
Iqbal Mustaqim
Ghazali Omar
Mohd Faiz Hanafiah
Mohd Shafiq Mohd Isa
Mohd Nazmi Mohd Yatim
Ida Rahayu Yusoff
and many others.
"At the heart of WAU Animation, is the desire to create animations that would move the audience. We aspire to tell amazing stories that are entertaining, yet meaningful and inspiring, at the same time fused with local essence, as we strongly believe in putting forth our unique Malaysian identity." - WAU Animation
Address
Address:


B-1-07, SME TECHNOPRENEUR CENTRE 2,
CYBERVIEW 6, JALAN USAHAWAN 1,
63000 CYBERJAYA, SELANGOR DARUL EHSAN,
MALAYSIA
thewaufactor@wau.my


+6017 372 7219
External Links
Community content is available under
CC-BY-SA
unless otherwise noted.